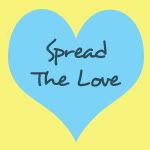 I was finally taking the time and catching up on some of the blogs I love to read. Yes I am slightly addicted. And I was reading Melissas blog
http://o-my-darling.blogspot.com/
and she is starting this spread the love week. I think this is a wonderful idea, and I have decided to join in.
I have so many ideas about what I could do for those around me this week to show my gratitude.
1. Sit down and spend my time with my girls, I am always too busy to just sit with them, we are usually doing something.
2. Send a little love to my 2 sisters and my mum, just because I can.
3. Have my friends husband over for dinner, while she is away this week, so he doesn't get too lonely.
4. Help a friend who is struggling, get her house in order.
So many ideas my list is endless. Her blog is a delight, and I am so glad I found it. Check it out, I'm sure will enjoy it as much as I do.
xx